The Neptune
Luxury Widebeam Barge
The Neptune is a fully fitted steel barge with a 12ft beam and lengths ranging from 60ft to 72ft. It comes equipped with all that's required for cruising or living aboard.
No detail has been overlooked, the boat includes everything from a luxury king sized bed to a choice of high quality English Rose Kitchens. With a cruising kit thrown in, all you need is a license, insurance, cutlery, bedding and your own saloon furniture.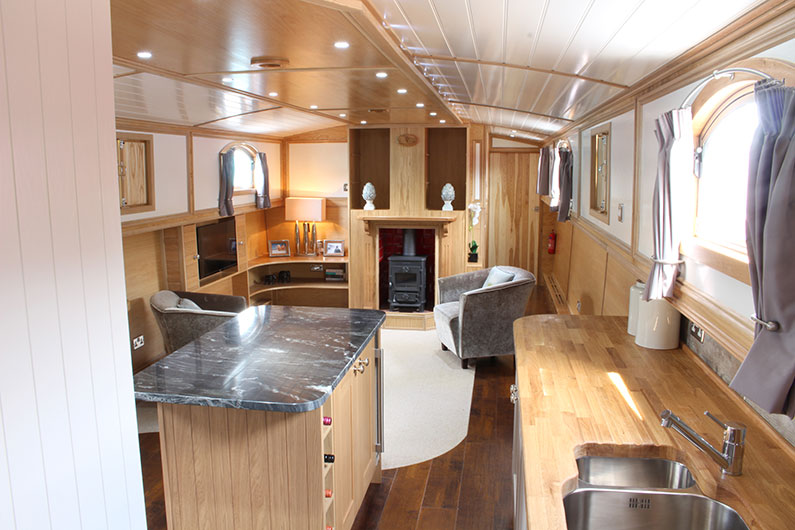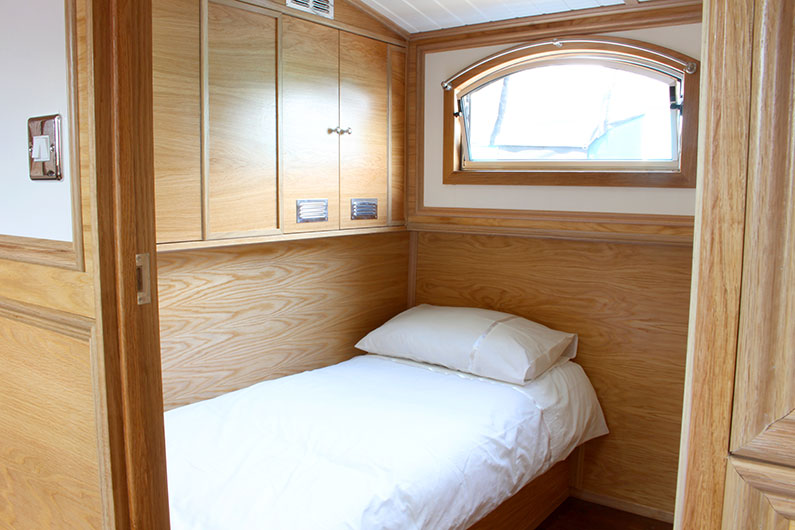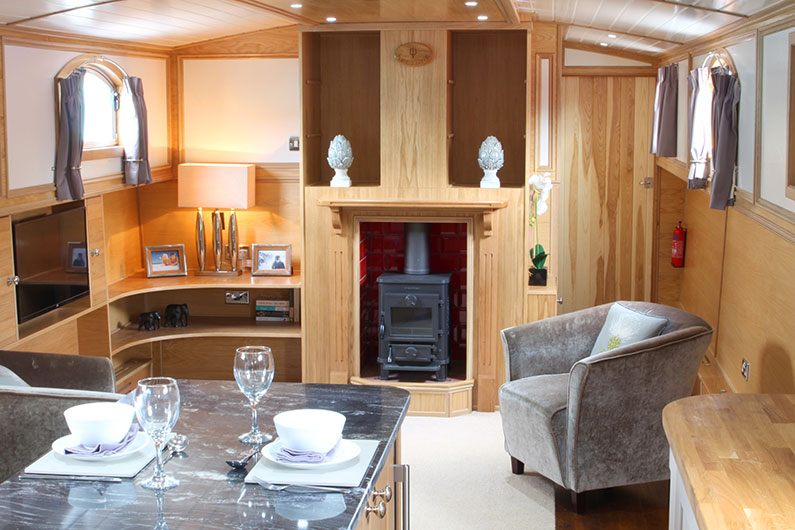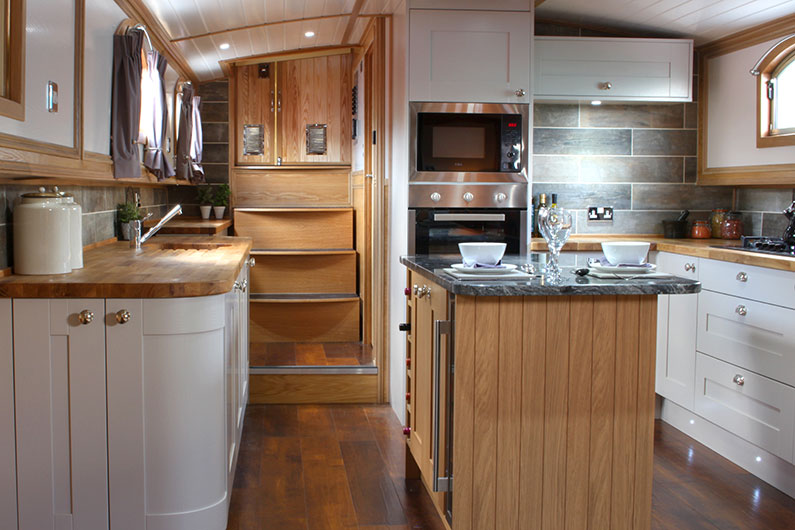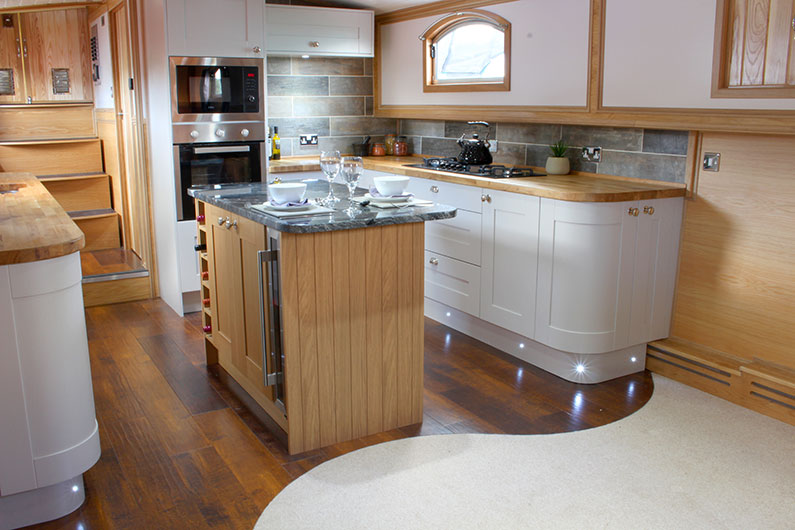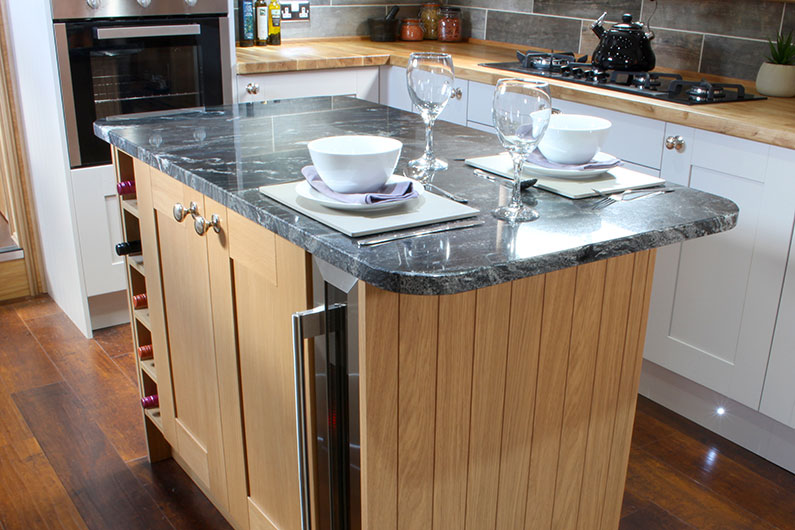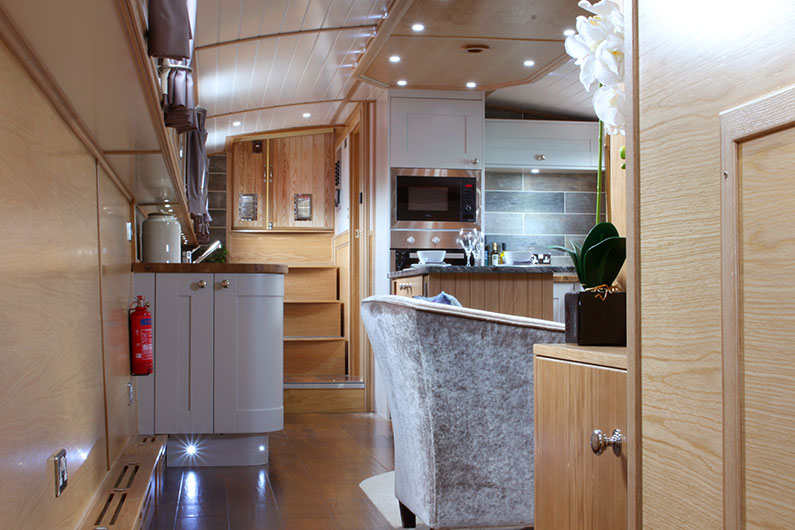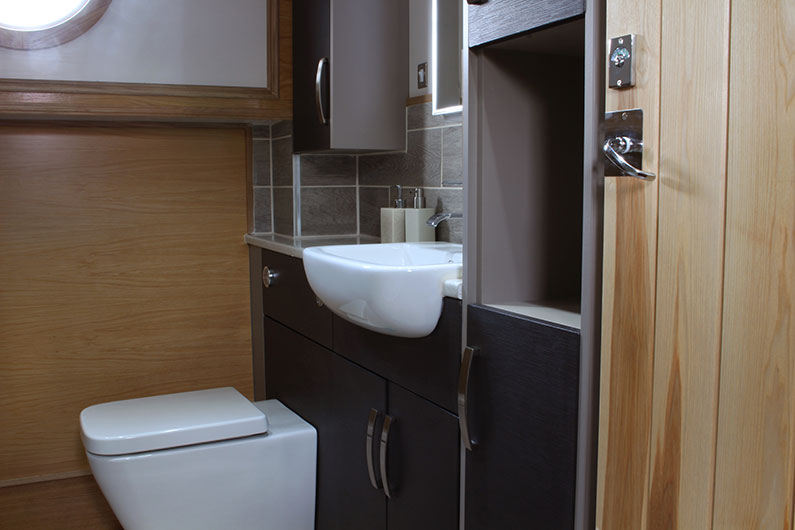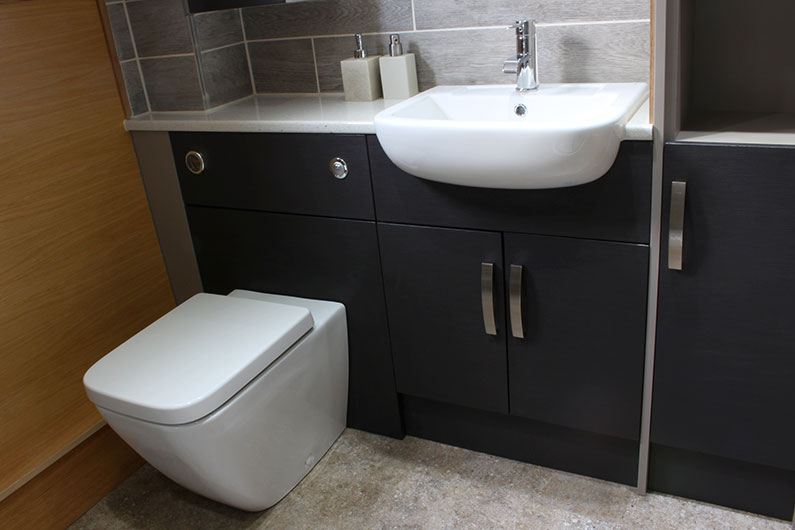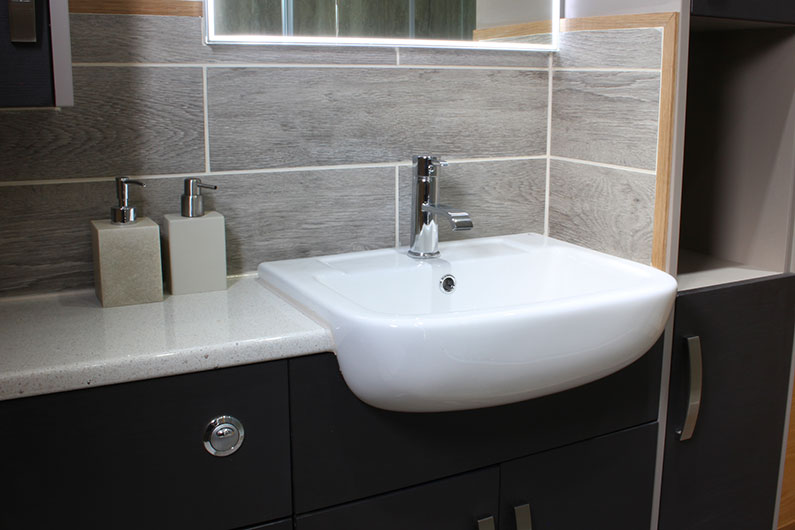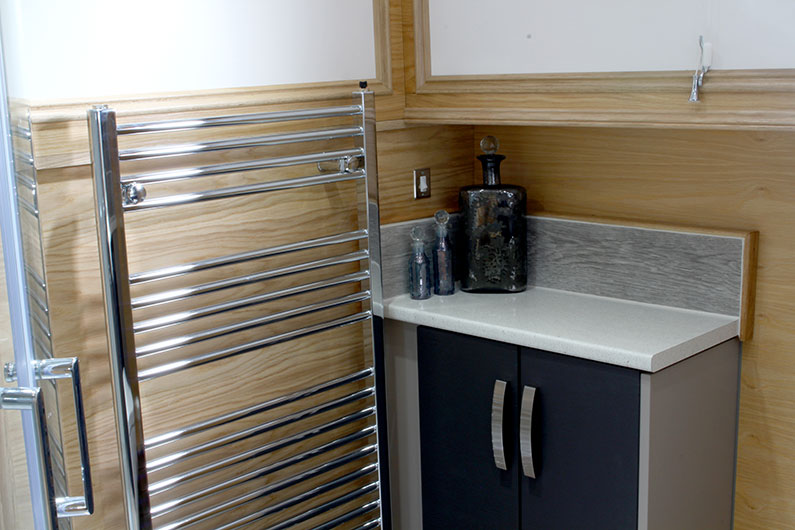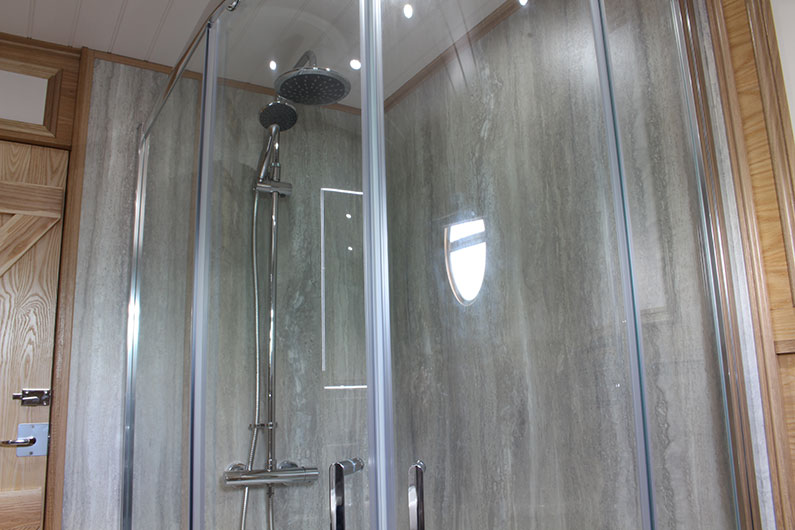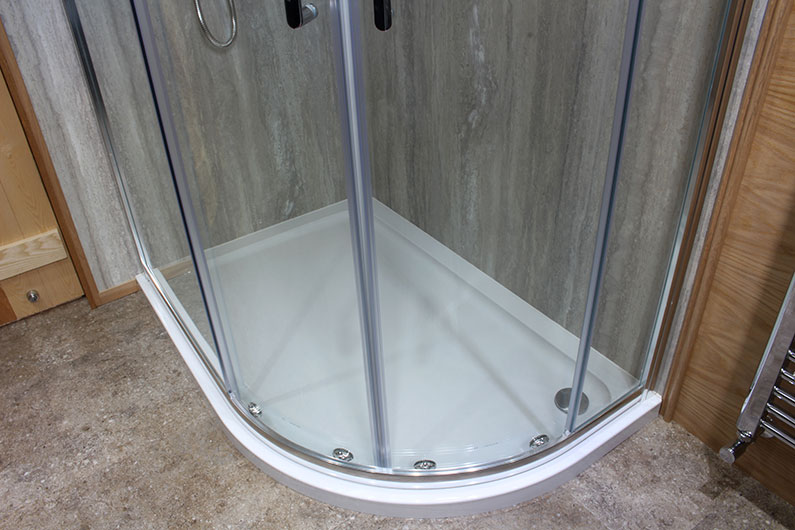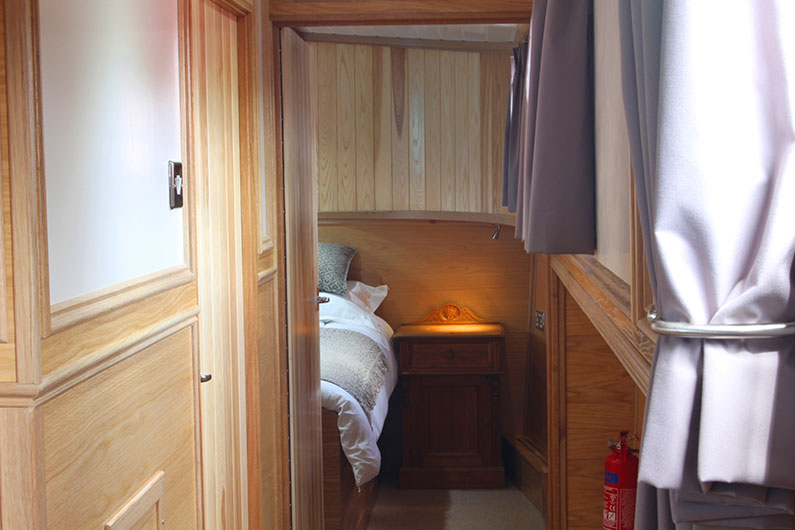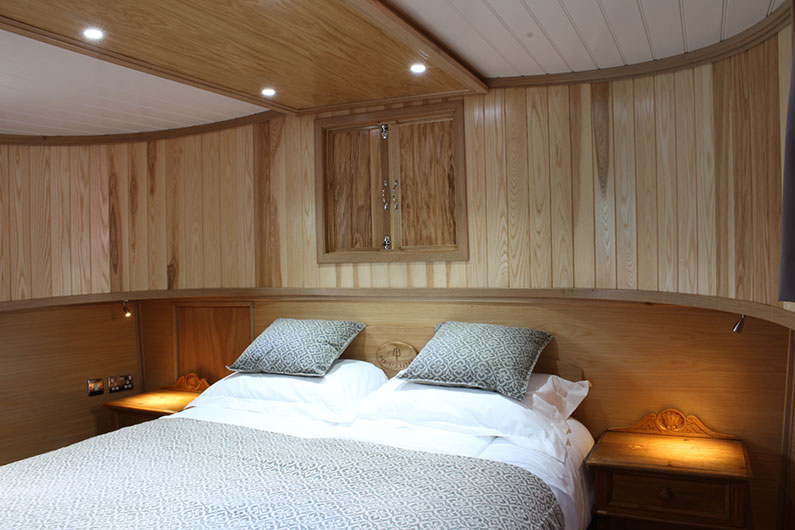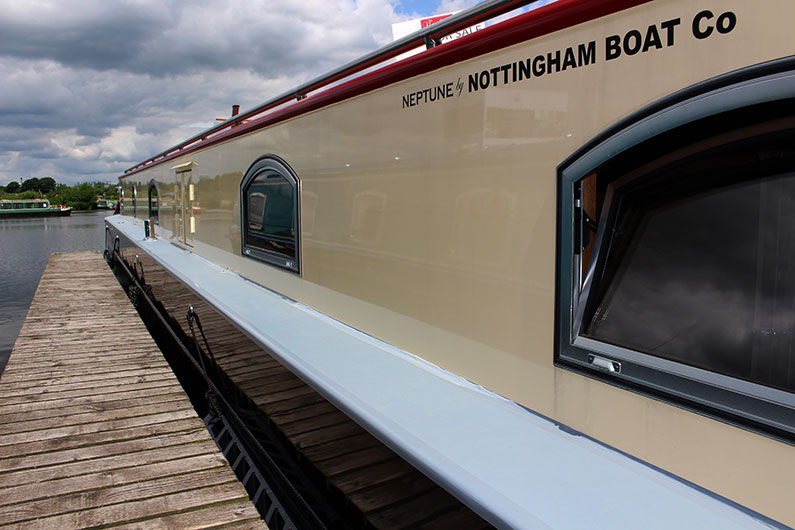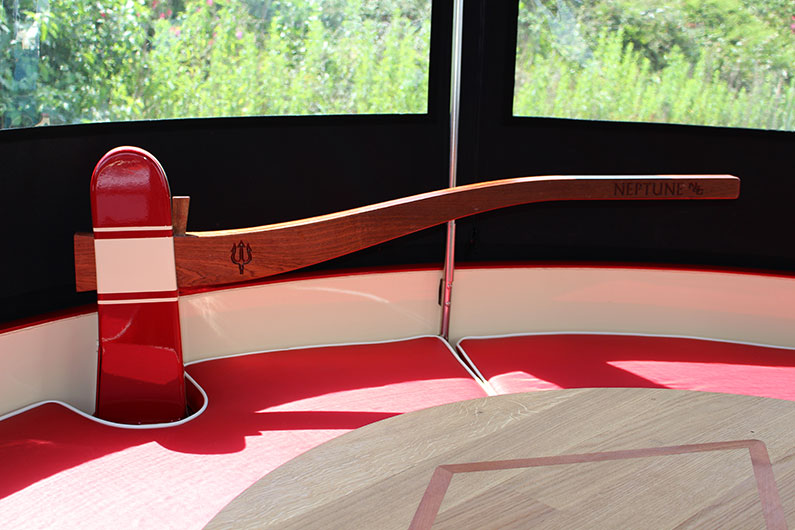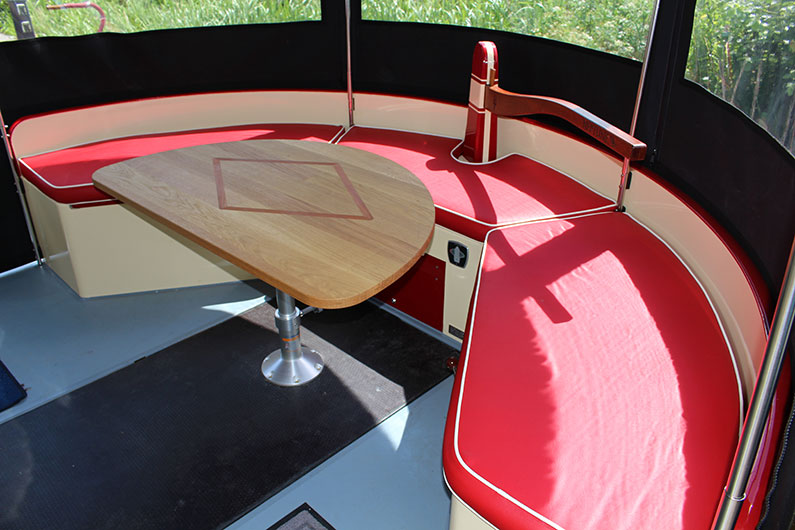 The Neptune from £139,950 exc vat
Above: Floor plans for the standard 60x12ft two bedroom Neptune Barge. If you would like to tailor your vessel to meet you exact requirements we are more than happy to discuss your requirements.
The Neptune is a fully fitted steel barge of wide-beam proportions with a 12ft width and lengths from 60ft to 72ft. It comes equipped with all that's required for cruising or living aboard. No detail has been over-looked, the boat includes everything from a luxury king-sized bed with mattress to choice of high quality English Rose kitchens. With a cruising kit thrown in, all you need is a license, insurance, cutlery, bedding and your saloon furniture.
Each individual element of The Neptune is of superior standard. The quality of the steelwork and durability of the paintwork, the engine efficiency and dependability of the heating system – everything has been designed, crafted and engineered for long lasting reliability and superior performance.
The Neptune has been built exclusively for The New & Used Boat Co. by one of the most experienced boat builders in the business – Nottingham Boat Co. Ltd. This is an organisation with a team of experienced technicians with over 50 yeas' experience in their craft. Both companies have worked closely together to achieve a truly exceptional craft.
It means that whether you are new to boating or fully experienced, you'll be buying a superbly user-friendly product that is dependable, practical and beautifully constructed and finished, inside and out. You also have the reassurance that it has been built to strict European safety guidelines regulated by the British Marine Federation.
Key Features
A barge-style craft built to uncompromising standards
Very spacious with open plan area for living and cooking
English Rose kitchens
Super convenient utility room or spare bedroom
Top brands, including Calypso Bathroom and Karndean flooring
Large cruiser stern deck designed for socialising
Central heating and spray insulation for total comfort and warmth
High gloss extra hard wearing external paint finish
Vetus Engines and boat equipment
Capable of UK and European River & Canal cruising
Stern Deck
The larger cruiser stern area is designed for socialising in safety and features an enclosed stern with fitted seat/storage lockers. Tiller steering supplies smooth comfortable controllable steering, or wheel steering is available as an optional extra. The engine and bow thruster (if fitted) are controlled from a single control pillar. Engine compartment access is via a large lightweight deck hatch.
Bow Locker
The bow locker provides a convenient, all-purpose storage area.
Gas Locker
The gas locker, situated on the stern deck, can hold up to 13kg bottles. For additional safety, an Aldi bubble gas leak detector is included, enabling self-checking of the gas system.
Full Cruising Kit
The kit contains all cruising essentials, including 2 bank pins, lump hammer, 2 mooring chains, water conservation key, windlass, 6 side fenders, 3 ten metre ropes, front V fender and rear extended button fender.
Standard Layout
Reverse layout comes as standard, other layouts are available if required.
At the stern is a handy utility room. This is followed by an open plan galley and saloon, adjacent to a spacious bathroom and finally a fully fitted bedroom at the bow.
Insulation
The concept of spray foam insulation has revolutionised steel boats, maximising warmth and almost eliminating condensation completely. All our boats are spray foamed with 97% close cell technology for optimum heat retention in the winter and to reduce heat absorption, which keeps the boat cooler in the summer. With the use of modern marine heating systems, your boat is potentially warmer than a modern house.
Lining and Wood Type
There is a choice of light Ash or Oak panelling, finished with 3 coats of clear satin varnish. The butt and bead effect ceiling is finished with off-white satin paintwork to create a feeling of classic elegance and space.
Flooring
There is a choice of premium quality, luxury flooring by Karndean, which can flow into the saloon & bathroom. Or, if preferred, another style can be chosen. Luxury carpet can also be fitted as standard. Please ask for details and prices.
Interior Finishes
All soft furnishings are included, with luxury king-sized mattress and blinds (or curtains at extra cost) in a choice of colours.
Utility Room
The utility room at the stern provides very versatile extra space, whether simply used for storage or with a washer/dryer or spare bed installed as an optional extra.
Galley
The spacious, open-plan galley is equipped to the highest standards. Solid wood worktops, including a breakfast bar, are finished with a tile splash-back against the clear satin varnished panelling. The galley is easily personalised thanks to a wide range of extremely high quality English Rose kitchens to choose from, along with alternative kitchen styles, integrated galley equipment and a wide range of worktops, sinks and matching mixer taps. Karndean luxury flooring is fitted as standard with other high quality flooring alternatives available.
Standard equipment for the galley includes a 4 burner gas hob inset into the worktop, an eye-level gas oven, grill and microwave unit built into the aft bulkhead. Integrated fridge with freezer box, washing machine and sink are also included as standard, along with LED down-lights and chrome finished 240v sockets. Additional integrated galley equipment is available as an optional extra which can be priced at the planning stage and fitted in to your boat. Please ask for details.
Saloon
The saloon is a very generously proportioned and well-appointed open plan area. Karndean flooring or carpets continue from the galley, whilst the walls are of attractive oak with jasmine white panelling and oak trim. Diesel central heating supplies clean heat through fin-rads hidden in hardwood boxing.
A Morso Squirrel solid fuel fire is fitted as standard to provide 5.5kw of heat to the whole cabin. It sits on a tiled fireplace in the saloon, adding a heart-warming focal point. A large fitted corner unit provides added storage space and also acts as a mounting for the TV. (Wi-Fi is available as an extra).
Exterior opening side hatches, both port and starboard, increase ventilation and add natural light to the saloon and galley area. LED down-lights and chrome finished 240v sockets complete a well thought-out saloon area, designed for free standing furniture.
Bathroom
The bathroom is luxurious and spacious, lined with oak panelling and waterproof bush board. The floor is 100% waterproof, lined with very high quality Karndean flooring. A full vanity unit with inset porcelain hand basin and polished chrome mixer tap is fitted as standard. The spacious 1200mm x 800mm off-set quadrant shower enclosure is equipped with a thermostatically controlled mixer unit, including 1 large fixed shower head and 1 remote handheld shower head.
The toilet is a VETUS electric flushing pump-out unit with porcelain bowl and damped closing seat. A 215 litre waste tank is fitted as standard. Larger alternatives up to 390 litres are available. A sizeable centrally heated towel rail, LED down-lights and extractor fan add the finishing touches to a well-equipped bathroom. An upgrade to our range of new Calypso bathroom suites is available. Please ask for details.
Bedroom
The fully carpeted bedroom is extensive and sumptuous, and includes 2 large fitted wardrobes, each with a separate full-sized hanging space and shelf section. The wardrobe doors are finished with full length mirrors. A fitted king-size bed comes complete with high quality mattress, wall mounted LED bedside lights and tables on both sides. For heating, Fin-rads are fitted in hardwood boxing instead of usual radiators. Last, but not least, LED down-lights and wall lights,  plus chrome finished 240v sockets with USB ports add atmosphere and convenience to this very relaxing space.
| Item | Description |
| --- | --- |
| Length: | 60ft (lengths up to 72ft available) |
| Width: | 12ft |
| Stern Type: | Cruiser |
| Steel Construction: | 10mm Base Plate / 6mm Hull Sides / 5mm Cabin Sides / 5mm Roof |
| Engine: | Vetus VH4.80 80hp (5 year warranty) |
| Gearbox: | TM345 Hydraulic Gearbox |
| Engine Battery Alternator: | 115amps |
| Leisure Battery Alternator: | 115amps |
| Diesel Tank Capacity: | Approximately 300-450 Litres |
| Water Tank Construction: | Stainless Steel |
| Water Tank Capacity: | Approximately 650 Litres (other sizes available) |
| Hull Protection: | Bitumen (2 Pack upgrade available) |
| Windows: | Quantity 10 (mixture of arched top windows and port holes) |
| Side Hatches: | Quantity 2 |
| Decks: | All self draining |
| Weed Hatch: | Quick release |
| Fender Eyes: | Brass recessed (chrome option available) |
| Gas Locker: | To hold 2 x 13kg bottles (1 provided with Aldi bubble gas leak detector) |
| Rubbing Strakes: | 1 full length (2 at bow & stern) |
| Handrails: | Roof mounted stainless steel handrails |
| Anodes: | 4 x 2.5kg magnesium anodes |
| Stern Doors: | Steel Lockable |
| Bow Hatch: | Steel Lockable |
| Item | Description |
| --- | --- |
| Shoreline Connection: | Yes |
| Leisure Battery Bank: | 500Amp/hrs (5x100 amp batteries) |
| Leisure Battery Bank Voltage: | 12 Volts |
| Inverter Type: | Pure Sine Wave - Combi Charger |
| Inverter Capacity | 3000w (optional upgrade available) |
| Galvanic Isolator | Yes |
| Engine Gauges | Revs, Oil Pressure, Battery Voltage, Temperature |
| Quantity of 240v Sockets | 10 Double Sockets |
| TV Signal Type | Digital (option for Satellite) |
| TV Points | Quantity 1 (option for addition) |
| Standard On-Board Appliances | Oven, Grill, Hobs, Fridge Freezer, Microwave, Washing Machine |
| Item | Description |
| --- | --- |
| Solid Fuel Stove: | Morso 1210 - 3.5KW Output |
| Central Heating: | Webasto Diesel Fired Heating - 3.5KW |
| Radiators: | Quantity 4 - 800mm Single Panel, Single Convector & Heated Towel Rail |
| Calorifier (Hot Water Tank) Capacity: | 120 Litres |
| Bath/Shower Type: | Bath with shower |
The Neptune is a fully fitted steel barge of wide-beam proportions with a 12ft width and lengths from 60ft to 72ft. It comes equipped with all that's required for cruising or living aboard. No detail has been over-looked, the boat includes everything from a luxury king-sized bed with mattress to choice of high quality English Rose kitchens. With a cruising kit thrown in, all you need is a license, insurance, cutlery, bedding and your saloon furniture.

Each individual element of The Neptune is of superior standard. The quality of the steelwork and durability of the paintwork, the engine efficiency and dependability of the heating system – everything has been designed, crafted and engineered for long lasting reliability and superior performance.

The Neptune has been built exclusively for The New & Used Boat Co. by one of the most experienced boat builders in the business – Nottingham Boat Co. Ltd. This is an organisation with a team of experienced technicians with over 50 yeas' experience in their craft. Both companies have worked closely together to achieve a truly exceptional craft.
It means that whether you are new to boating or fully experienced, you'll be buying a superbly user-friendly product that is dependable, practical and beautifully constructed and finished, inside and out. You also have the reassurance that it has been built to strict European safety guidelines regulated by the British Marine Federation.

Key Features

A barge-style craft built to uncompromising standards
Very spacious with open plan area for living and cooking
English Rose kitchens
Super convenient utility room or spare bedroom
Top brands, including Calypso Bathroom and Karndean flooring
Large cruiser stern deck designed for socialising
Central heating and spray insulation for total comfort and warmth
High gloss extra hard wearing external paint finish
Vetus Engines and boat equipment
Capable of UK and European River & Canal cruising

Stern Deck
The larger cruiser stern area is designed for socialising in safety and features an enclosed stern with fitted seat/storage lockers. Tiller steering supplies smooth comfortable controllable steering, or wheel steering is available as an optional extra. The engine and bow thruster (if fitted) are controlled from a single control pillar. Engine compartment access is via a large lightweight deck hatch.

Bow Locker
The bow locker provides a convenient, all-purpose storage area.

Gas Locker
The gas locker, situated on the stern deck, can hold up to 13kg bottles. For additional safety, an Aldi bubble gas leak detector is included, enabling self-checking of the gas system.

Full Cruising Kit
The kit contains all cruising essentials, including 2 bank pins, lump hammer, 2 mooring chains, water conservation key, windlass, 6 side fenders, 3 ten metre ropes, front V fender and rear extended button fender.

Standard Layout
Reverse layout comes as standard, other layouts are available if required.
At the stern is a handy utility room. This is followed by an open plan galley and saloon, adjacent to a spacious bathroom and finally a fully fitted bedroom at the bow.

Insulation
The concept of spray foam insulation has revolutionised steel boats, maximising warmth and almost eliminating condensation completely. All our boats are spray foamed with 97% close cell technology for optimum heat retention in the winter and to reduce heat absorption, which keeps the boat cooler in the summer. With the use of modern marine heating systems, your boat is potentially warmer than a modern house.

Lining and Wood Type
There is a choice of light Ash or Oak panelling, finished with 3 coats of clear satin varnish. The butt and bead effect ceiling is finished with off-white satin paintwork to create a feeling of classic elegance and space.

Flooring
There is a choice of premium quality, luxury flooring by Karndean, which can flow into the saloon & bathroom. Or, if preferred, another style can be chosen. Luxury carpet can also be fitted as standard. Please ask for details and prices.

Interior Finishes
All soft furnishings are included, with luxury king-sized mattress and blinds (or curtains at extra cost) in a choice of colours.

Utility Room
The utility room at the stern provides very versatile extra space, whether simply used for storage or with a washer/dryer or spare bed installed as an optional extra.

Galley
The spacious, open-plan galley is equipped to the highest standards. Solid wood worktops, including a breakfast bar, are finished with a tile splash-back against the clear satin varnished panelling. The galley is easily personalised thanks to a wide range of extremely high quality English Rose kitchens to choose from, along with alternative kitchen styles, integrated galley equipment and a wide range of worktops, sinks and matching mixer taps. Karndean luxury flooring is fitted as standard with other high quality flooring alternatives available.

Standard equipment for the galley includes a 4 burner gas hob inset into the worktop, an eye-level gas oven, grill and microwave unit built into the aft bulkhead. Integrated fridge with freezer box, washing machine and sink are also included as standard, along with LED down-lights and chrome finished 240v sockets. Additional integrated galley equipment is available as an optional extra which can be priced at the planning stage and fitted in to your boat. Please ask for details.

Saloon
The saloon is a very generously proportioned and well-appointed open plan area. Karndean flooring or carpets continue from the galley, whilst the walls are of attractive oak with jasmine white panelling and oak trim. Diesel central heating supplies clean heat through fin-rads hidden in hardwood boxing.

A Morso Squirrel solid fuel fire is fitted as standard to provide 5.5kw of heat to the whole cabin. It sits on a tiled fireplace in the saloon, adding a heart-warming focal point. A large fitted corner unit provides added storage space and also acts as a mounting for the TV. (Wi-Fi is available as an extra).
Exterior opening side hatches, both port and starboard, increase ventilation and add natural light to the saloon and galley area. LED down-lights and chrome finished 240v sockets complete a well thought-out saloon area, designed for free standing furniture.

Bathroom
The bathroom is luxurious and spacious, lined with oak panelling and waterproof bush board. The floor is 100% waterproof, lined with very high quality Karndean flooring. A full vanity unit with inset porcelain hand basin and polished chrome mixer tap is fitted as standard. The spacious 1200mm x 800mm off-set quadrant shower enclosure is equipped with a thermostatically controlled mixer unit, including 1 large fixed shower head and 1 remote handheld shower head.
The toilet is a VETUS electric flushing pump-out unit with porcelain bowl and damped closing seat. A 215 litre waste tank is fitted as standard. Larger alternatives up to 390 litres are available. A sizeable centrally heated towel rail, LED down-lights and extractor fan add the finishing touches to a well-equipped bathroom. An upgrade to our range of new Calypso bathroom suites is available. Please ask for details.

Bedroom
The fully carpeted bedroom is extensive and sumptuous, and includes 2 large fitted wardrobes, each with a separate full-sized hanging space and shelf section. The wardrobe doors are finished with full length mirrors. A fitted king-size bed comes complete with high quality mattress, wall mounted LED bedside lights and tables on both sides. For heating, Fin-rads are fitted in hardwood boxing instead of usual radiators. Last, but not least, LED down-lights and wall lights,  plus chrome finished 240v sockets with USB ports add atmosphere and convenience to this very relaxing space.

| Item | Description |
| --- | --- |
| Length: | 60ft (lengths up to 72ft available) |
| Width: | 12ft |
| Stern Type: | Cruiser |
| Steel Construction: | 10mm Base Plate / 6mm Hull Sides / 5mm Cabin Sides / 5mm Roof |
| Engine: | Vetus VH4.80 80hp (5 year warranty) |
| Gearbox: | TM345 Hydraulic Gearbox |
| Engine Battery Alternator: | 115amps |
| Leisure Battery Alternator: | 115amps |
| Diesel Tank Capacity: | Approximately 300-450 Litres |
| Water Tank Construction: | Stainless Steel |
| Water Tank Capacity: | Approximately 650 Litres (other sizes available) |
| Hull Protection: | Bitumen (2 Pack upgrade available) |
| Windows: | Quantity 10 (mixture of arched top windows and port holes) |
| Side Hatches: | Quantity 2 |
| Decks: | All self draining |
| Weed Hatch: | Quick release |
| Fender Eyes: | Brass recessed (chrome option available) |
| Gas Locker: | To hold 2 x 13kg bottles (1 provided with Aldi bubble gas leak detector) |
| Rubbing Strakes: | 1 full length (2 at bow & stern) |
| Handrails: | Roof mounted stainless steel handrails |
| Anodes: | 4 x 2.5kg magnesium anodes |
| Stern Doors: | Steel Lockable |
| Bow Hatch: | Steel Lockable |

| Item | Description |
| --- | --- |
| Shoreline Connection: | Yes |
| Leisure Battery Bank: | 500Amp/hrs (5x100 amp batteries) |
| Leisure Battery Bank Voltage: | 12 Volts |
| Inverter Type: | Pure Sine Wave - Combi Charger |
| Inverter Capacity | 3000w (optional upgrade available) |
| Galvanic Isolator | Yes |
| Engine Gauges | Revs, Oil Pressure, Battery Voltage, Temperature |
| Quantity of 240v Sockets | 10 Double Sockets |
| TV Signal Type | Digital (option for Satellite) |
| TV Points | Quantity 1 (option for addition) |
| Standard On-Board Appliances | Oven, Grill, Hobs, Fridge Freezer, Microwave, Washing Machine |

| Item | Description |
| --- | --- |
| Solid Fuel Stove: | Morso 1210 - 3.5KW Output |
| Central Heating: | Webasto Diesel Fired Heating - 3.5KW |
| Radiators: | Quantity 4 - 800mm Single Panel, Single Convector & Heated Towel Rail |
| Calorifier (Hot Water Tank) Capacity: | 120 Litres |
| Bath/Shower Type: | Bath with shower |