Adventurer
Boat Type: Narrowbeam
Status:

Sold

Year Built: 2006
Length: 50ft
Lying at: Mercia
Fitted out By: Builder
Construction: Steel
Steel Spec: 10.6.4
Engine Make: Beta
Engine Horse Power: 35
Depth of Hold: 24''
Cabin Lining: Light Oak
Flooring: Carpet + Laminate
Trim: Rewd wood
Rear Cover: Tonneau Cover
No. Berths: 4
Cratch: YES
Stern: Cruiser
Width: 6.10ft
Hull Builder: S.W.Durham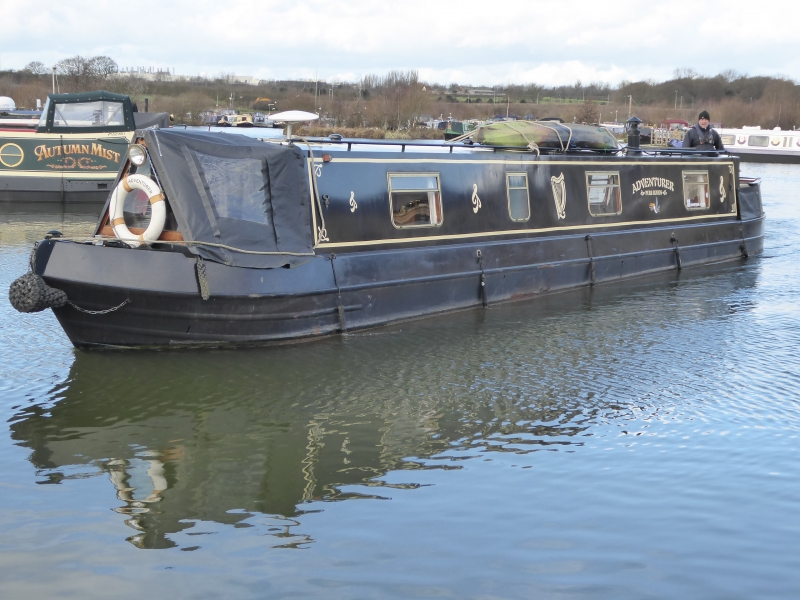 Adventurer is 50' cruiser stern boat with the feel of a 57' inside . Well set up for livaboard or holiday and weekends.
Reverse layout with the saloon at the stern, forward of the saloon is a well equipped galley with a good range of floor and wall units. Off corridor bathroom with shower cubicle, sink in vanity unit and cassette toilet. Bedroom at the bow with fixed double bed, wardrobe, overhead locker and small dressing table.
Adventurer is a one owner boat, which is reflected in the very clean interior. Full inventory, ready to go.
| | | | |
| --- | --- | --- | --- |
| | Time with Current Owner: | From New | |
| | No. Previous Owners: | Builder | |
| | Last Blacked: | 4 years | |
| | Anodes Replaced: | Last blacking | |
| | Boiler Last Serviced: | | |
| | BSC Expiry Date: | 0000-00-00 | |
| | BSC Expiry Date: | 0000-00-00 | |
| | CE Mark/RCD Status: | Complies | |
Engine
| | |
| --- | --- |
| Engine Make: | Beta |
| Engine Model: | Greenline 35 |
| Engine Hours: | |
| Engine Last Serviced: | August 2016 |
| Gearbox: | PRM |
| Bowthruster: | None |
| 230v Landline: | YES |
| Inverter: | Victron |
| Domestic Batteries: | 4 |
| Battery Charger: | Yes |
| Battery Management: | No |
| No. Alternators: | 2 |
| Generator: | No |
| Solar Panels: | NO |
Saloon
| | |
| --- | --- |
| Dinette: | Freestanding Table |
| TV Cupboard: | NO |
| Bookshelves: | YES |
| Solid Fuel Stove: | Yes |
| Seating: | Yes - Storage sofa bed. |
| Notes: | Comfortable saloon entered from the stern deck. |
Kitchen/Gallery
| | |
| --- | --- |
| Floor Units: | YES |
| Wall Units: | YES |
| Cooker Make: | |
| Fridge Make: | 12v |
| Microwave: | 1 |
| Washing Machine: | No |
| Notes: | Well equipped galley forward of the saloon area. |
Bathroom
| | |
| --- | --- |
| Bath or Shower: | Shower |
| Toilet Type: | Cassette |
| Vanity Basin: | 1 |
| Heated Towel Rail: | 0 |
| Notes: | Off corridor bathroom with shower cubicle, sink in vanity unit and cassette toilet. |
Bedroom
Bed:

Plumbing & Heatings

| | |
| --- | --- |
| Type of Heating: | Multi Fuel Stove |
| No. Radiators: | 3 |
| Calorifier: | YES |
| Gas: | YES |
| Fresh Water Tank Type: | Stainless Steel |
| Fresh Water Tank Capacity: | 600 Ltrs |
| Fuel Tank Capacity: | 250 Ltrs |
| Insulation: | Spray Foam |
| Dressing Table: | 1 |
| Insulation: | Spray Foam |
| Waste Tank Capacity: | N/A |
| Hot Water Via: | Engine and Heater Unit and Immersion |