Turbot
Boat Type: Dutch Barge
Status:

For Sale

Year Built: 1966
Length: 100ft
Lying at: Outlying
Fitted out By: William Cubbins
Construction: Steel
Steel Spec: TBC
Engine Make: N/A
Engine Horse Power: N/A
Depth of Hold: 3'
Cabin Lining: White panelling
Flooring: Wood / Steel
Trim: Hardwood
Rear Cover: None
No. Berths: 0
Cratch: NO
Stern: Traditional
Width: 6.10ft
Hull Builder: William Cubbins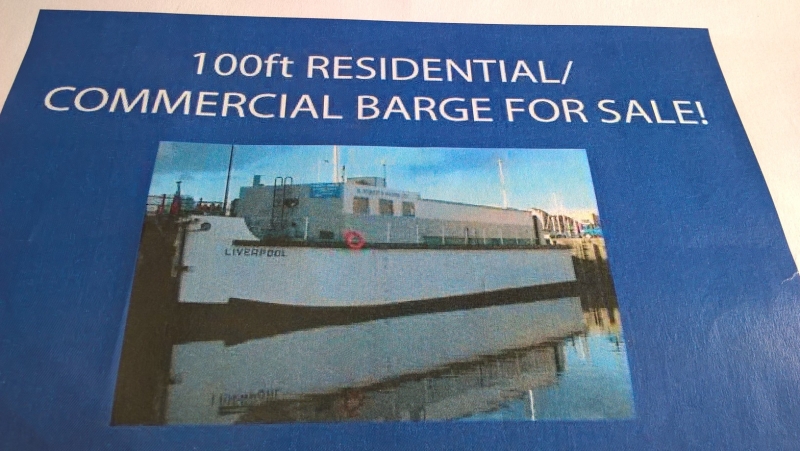 Turbot was built in 1966 as a dumb barge and has since been converted to a shop, offices and substantial workshop. Turbot is currently moored in Liverpool Marina.
At 31m long and 6.5 wide she offers considerable room for further commercial use or conversion to residential use.
There is also the possibility to take the barge in its current state and carry on trading with the well established chandlery.
Please contact Mercia office to arrange a viewing
| | | | |
| --- | --- | --- | --- |
| | Time with Current Owner: | 20 Years | |
| | No. Previous Owners: | Builder | |
| | Last Blacked: | | |
| | Anodes Replaced: | Every Year | |
| | Boiler Last Serviced: | N/A | |
| | BSC Expiry Date: | 0000-00-00 | |
| | BSC Expiry Date: | 0000-00-00 | |
| | CE Mark/RCD Status: | Exempt | |
Engine
| | |
| --- | --- |
| Engine Make: | N/A |
| Engine Model: | N/A |
| Engine Hours: | N/A |
| Engine Last Serviced: | N/A |
| Gearbox: | N/A |
| Bowthruster: | None |
| 230v Landline: | YES |
| Inverter: | N/A |
| Domestic Batteries: | N/A - Mains supply |
| Battery Charger: | N/A |
| Battery Management: | N/A |
| No. Alternators: | N/A |
| Generator: | N/A |
| Solar Panels: | NO |
Saloon
| | |
| --- | --- |
| Dinette: | No Dinette |
| TV Cupboard: | NO |
| Bookshelves: | NO |
| Solid Fuel Stove: | NO |
| Seating: | NO |
| Notes: | |
Kitchen/Gallery
| | |
| --- | --- |
| Floor Units: | NO |
| Wall Units: | NO |
| Cooker Make: | |
| Fridge Make: | |
| Microwave: | 0 |
| Washing Machine: | |
| Notes: | |
Bathroom
| | |
| --- | --- |
| Bath or Shower: | Shower |
| Toilet Type: | Other |
| Vanity Basin: | 1 |
| Heated Towel Rail: | 0 |
| Notes: | |
Bedroom
Bed:

Plumbing & Heatings

| | |
| --- | --- |
| Type of Heating: | Domestic Boiler |
| No. Radiators: | 10 |
| Calorifier: | YES |
| Gas: | NO |
| Fresh Water Tank Type: | Stainless Steel |
| Fresh Water Tank Capacity: | Mains supply |
| Fuel Tank Capacity: | N/A |
| Insulation: | Rockwool |
| Dressing Table: | 0 |
| Insulation: | Rockwool |
| Waste Tank Capacity: | N/A |
| Hot Water Via: | Heater Unit |