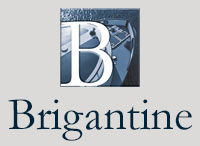 Brigantine
Luxury Barge
The Brigantine is a boat that's designed for versatility. It's widebeam format and high quality steelwork structure make it ideal for taking across the channel to experience the splendours of the European Inland Waterway system. Or of course it's equally at home on tranquil rivers of Britain. And whether you're looking for a boat to be your home or your luxury cruising companion, the Brigantine fits both bills perfectly.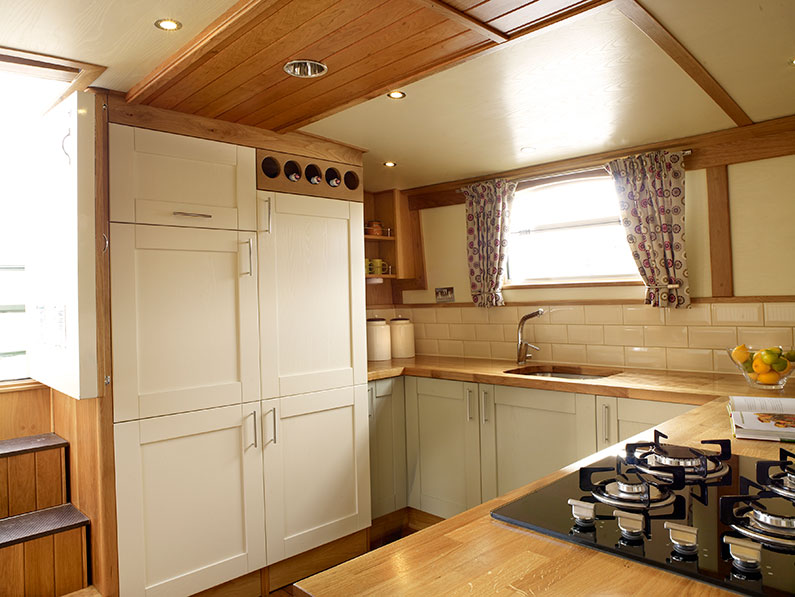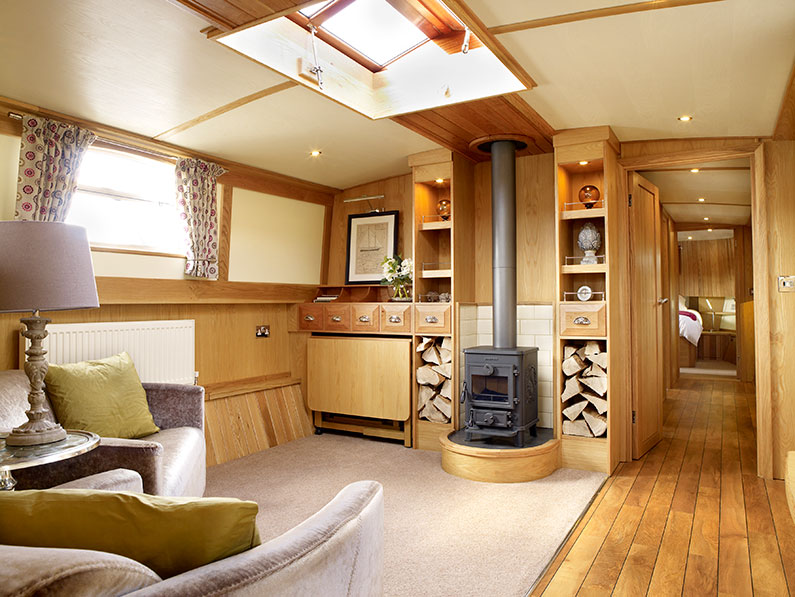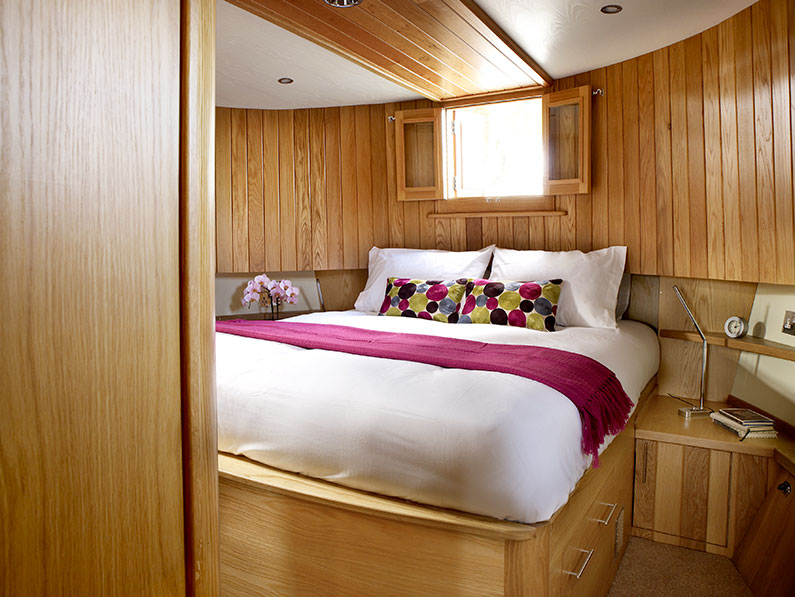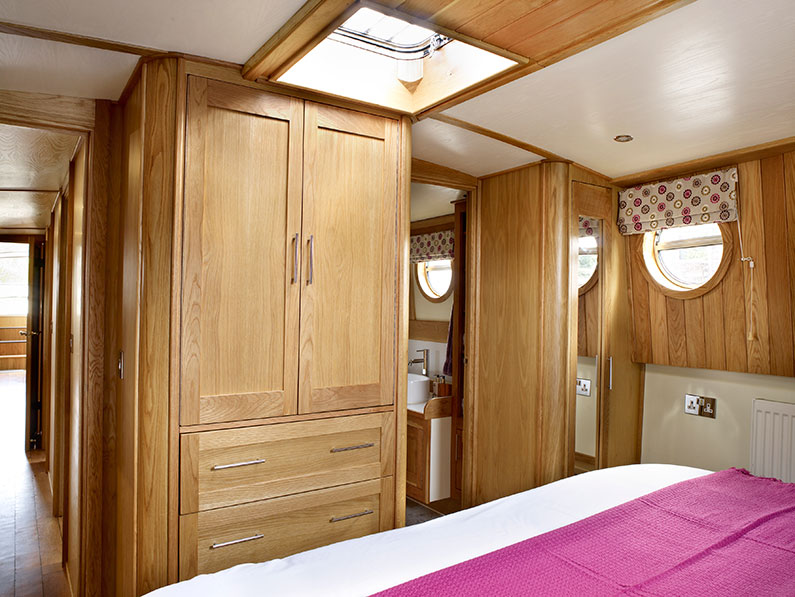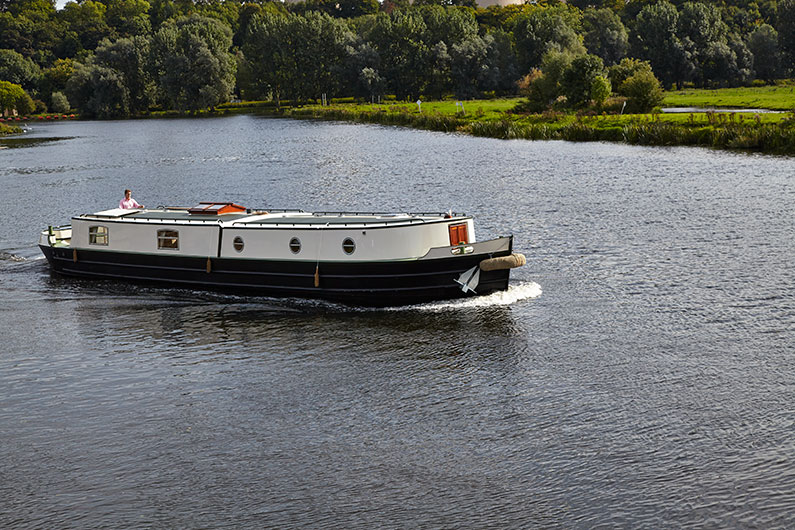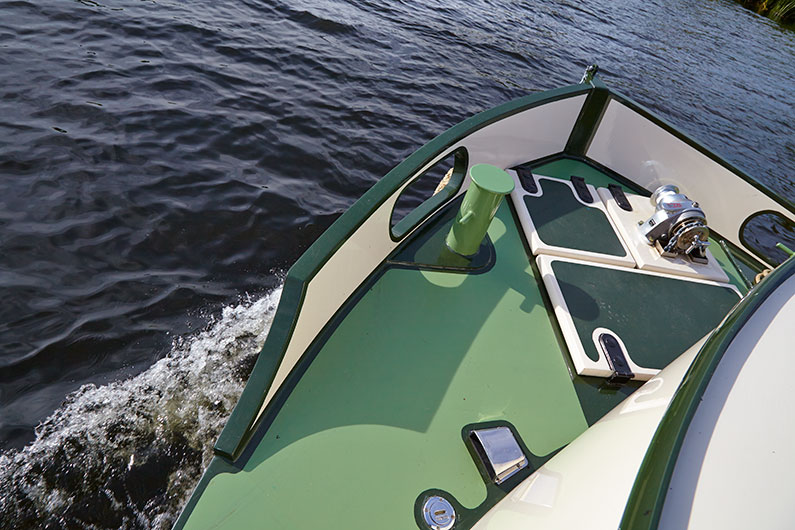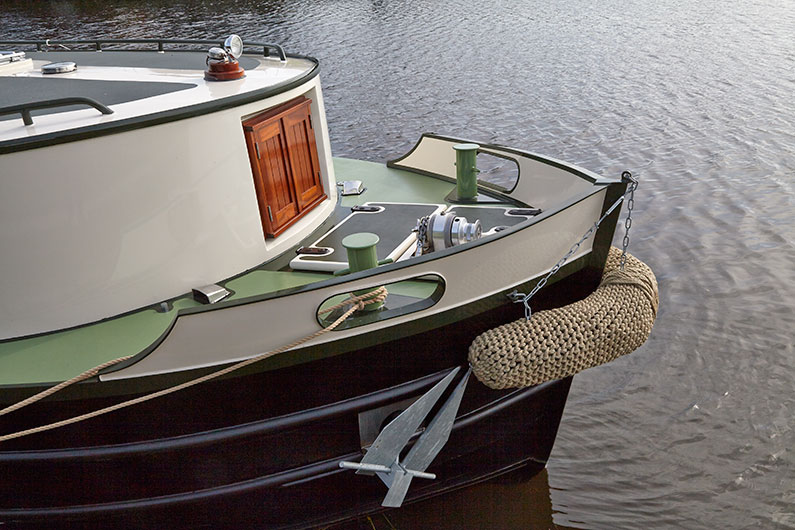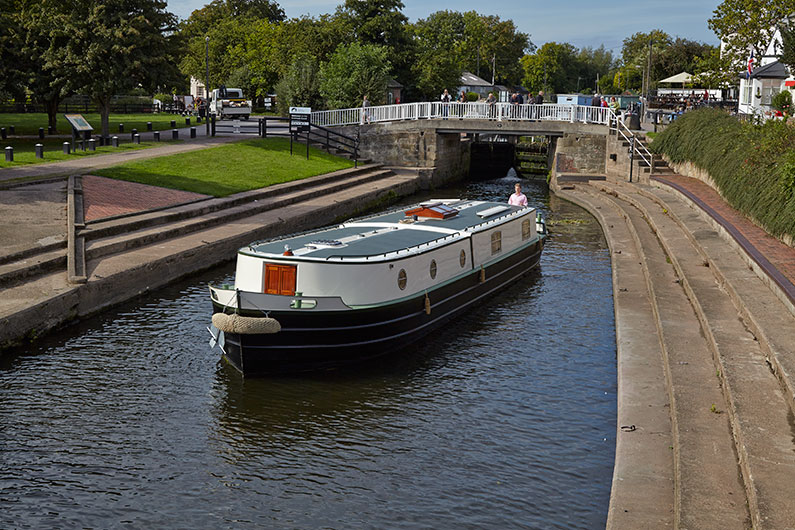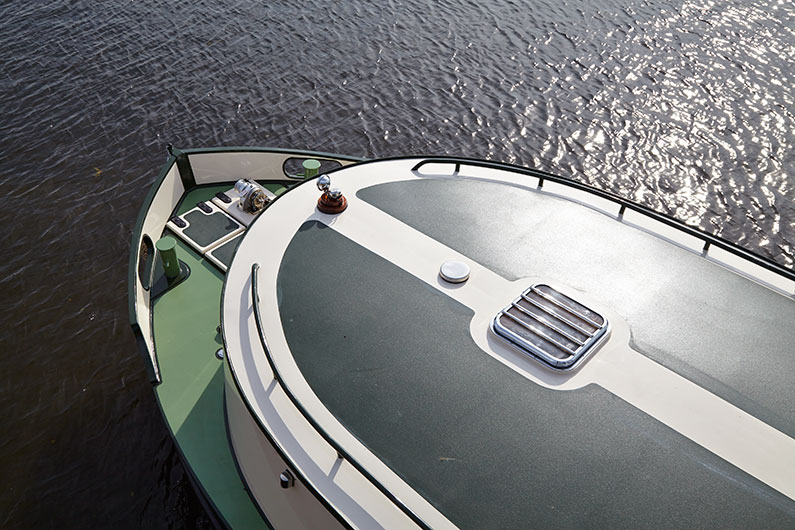 Brigantine Barge from £POA exc vat
Above: Brigantine 12ft 6″ beam typical floor plan.
If you would like to tailor your vessel to meet you exact requirements we are more than happy to discuss your requirements.
The Brigantine is a widebeam barge style vessel, elegantly designed to offer the very best of both residential and cruising options, whether that be on the UK or European Inland Waterways.
With steelwork developed and constructed by renowned stalwarts, Tyler-Wilson boatbuilders, Brigantine is a boat that dynamically delivers on all fronts.
Constructed to the highest specification to allow for exceptionally comfortable life afloat, Brigantine's hallmarks of its pedigree are obvious, detail and design; quality of steelwork construction; thoughtful attention to detail – both for ease of use and longevity of performance.
Bespoke level interior fit-out, 'domestic' system & engineering installations as well as exterior finishing, is by Nottingham Boat Co, one of the most experienced boat builders in the business. This is an organisation with a team of experienced technicians with over 50 years' experience in their craft.
Available to specify & purchase exclusively through The New & Used Boat Co., our vast experience with skilfully guide you through the entire process (offering experienced based advice as required) through hand-over. Rest assured, your total peace of mind is out constant goal
Some highlights of the Brigantine:
Qualifying Ship for residential VAT Purposes
Elegant and imposing design with great attention to detail
Large choice of internal finishes (& combinations) such as oak, ash, cherry, maple and walnut, as well as a wide choice of traditional & contemporary paint finishes
A mixture of Channelglaze barge style arch top opening windows and portholes
A large glazed dog-box style roof lantern as standard in the saloon, plus optional 'Houdini' Hatch in the master cabin
Beautiful spray painted marine specification gloss paints to the exterior, skilfully applied following full shot blasting and multiple applications of 2-pack Epoxy Primer
Three standard layouts available, in four production lengths, with a myriad of optional choices, plus further opportunities to access our completely bespoke design & build services
Perfect for river & canal continental cruising
Collapsible all-weather windscreen/aft-deck cover, or full folding wheelhouse available
Complete with a comprehensive cruising kit
Layout & Style:
The standard Brigantine layout is of the highly popular and practical reverse layout, with the galley at the stern followed by a large saloon area, guest suite/study (if requested), bathroom, with master cabin at the bow. We are happy to discuss and accommodate changes to the overall layout design or sizes of individual rooms.
The Brigantine is is currently available in three standard lengths 60, 65 & 70ft, although we do offer the flexibility of additional 1 foot length increments.
Lining & Materials:
Lower Sides: solid oak T&G boards along chine linings and oak veneered ply above the chine linings (apart from the master cabin, which is hand painted birch ply).
Upper Sides: either hand painted birch ply, or oak veneered ply, with 'chunky' solid oak traditional feature paneling (apart from master cabin which is solid oak T&G.
Ceiling/Deck-head: either hand painted birch ply, or oak veneered ply, with oak blockboard/solid oak trim.
All interior dividing bulkheads & walls are solid 'stud' type construction, with sound proofing and warmth retaining insulation.
Flooring:
Standard materials are ceramic tiling, or water resistant  laminate in the galley, main corridor (bow to stern) and bathroom. High quality wool blended carets (with underlays) in the saloon area and bedroom cabins.
Galley:
Designed to make the best use of space, as well as making a statement when entering the cabin. It features beautiful and luxurious hardwood work surfaces & tiled splashbacks. A mixer with in built water filter system and an under slung stainless steel sink with drainer grooves milled into the work surface. Appliances include a large stainless steel LPG oven and hob with stainless steel & glass extractor unit above and a concealed 12v fridge.
As standard one low level cupboard (with door) is fully prepared & plumbed for a standard washing machine / dryer, which we are happy to supply as an option, or fit as a 'free issue' item, should you wish to self procure.
Saloon:
A generously proportioned and comfortable saloon awaits you onboard your Brigantine. An airy space for entertaining, relaxing and dining or working. Featuring a 'dog-box' double glazed lantern overhead, this area is an area that will never fail to impress.
With enough space for a large 'L' shaped sofa forward of the galley, there are 2 focal points within the room; the stylishly presented Morso 'Squirrel' solid fuel stove on the centreline and the 32″  LED TV is an under gunwale unit to the starboard side. Also in the saloon area is a bespoke table and 4 chair set that when not in use stores below a stylish very 'ship-like' traditional bureau unit.
Guest Suite/Study (optional):
Whether you are expecting regular guests, need a second bedroom for other family members or a space to work from, you may wish to consider the option of another enclosed room. Available in 2 standard layouts either as guest suite or a study or a further options of a combined guest suite and study or a child's bedroom.
Bathroom:
The luxurious 'bathroom' is designed both for guests/visitors, and as an en-suite too! In one corner is a large 900mm quadrant shower with thermostatic mixer and spray head on a riser rail. A contemporary styled counter top basin, with pedestal tap, sits on top of a bespoke floor cabinet. The toilet is a top quality macerator, with 'domestic' styled china bowl, 2 stage eco-flush control and waste tank volume gauge.
Master Bedroom:
Located at the bows, a 'super king size' fixed double bed, underneath the bed is the fresh water tank and 2 large capacity drawers on double slide runners. To each side of the bed is a bed-side storage unit and low level storage shelves.
Also in this cabin is a floor to ceiling single full hanging wardrobe to one side of the en-suite door featuring a full length mirrored door and a matching floor to ceiling half hanging wardrobe and 'tall boy' style drawers underneath.
Other highlights of this room include the opening hatch doors to the bow (with glazed interior windows).
| Item | Description |
| --- | --- |
| Lengths: | 60ft, 65ft & 70ft |
| Width: | 12ft 6" |
| Stern Type: | Large Cruiser Stern |
| Engine: | Keel cooled, 4 cylinder 3.3 litre inboard diesel fuel 'Shire 70' |
| Gearbox: | PRM 260 Hydraulic Gearbox (2:1 reduction) |
| Engine Battery Alternator: | 50A |
| Leisure Battery Alternator: | 240A |
| Hospital Engine Silencer: | Yes |
| Diesel Tank Capacity: | Approx. 110 Gallons (500 litres) |
| Water Tank Construction: | Bespoke fully baffled food grade polypropylene |
| Water Tank Capacity: | Approx. 200 Gallons (900 litres) |
| Hull Protection: | Bitumen (2 Pack upgrade available) |
| Windows: | Mixture of arched top windows & port holes (size changes accommodated) |
| Decks: | All self draining |
| Weed Hatch: | Quick release |
| Gas Locker: | To hold 2 x 13kg bottles (1 provided) |
| Rubbing Strakes: | 2 full length (3 at bow & stern) |
| Handrails: | Roof mounted handrail |
| Bow Lockers: | Fitted as standard |
| Anodes: | 4 x 2.5kg magnesium anodes |
| Stern Doors: | Steel Lockable |
| Bow Hatch: | Hardwood, lockable with internal doors |
| Item | Description |
| --- | --- |
| Shoreline Connection: | Yes |
| Leisure Battery Bank: | 4 x 110A semi-traction batteries (optional AGM 600A battery upgrade) |
| Leisure Battery Bank Voltage: | 12v |
| Inverter Type: | Victron Pure Sine Wave - Combi Charger 120A |
| Inverter Capacity: | 3000W |
| Galvanic Isolator: | Yes |
| Engine Gauges: | Revs, temperature & oil warning lights |
| Quantity Electrical Sockets: | 6x 240v double sockets as standard (option for additional) |
| TV Signal Type: | Digital (Satellite upgrade available) |
| TV Points: | Qty. 1 (option for additional) |
| Appliances: | Full sized stainless steel hob, double oven, integrated fridge, stainless steel & glass extractor |
| Item | Description |
| --- | --- |
| Solid Fuel Stove: | Morso Solid Fuel Stove |
| Central Heating: | Diesel Fired Heating - 7Kw |
| Radiators: | 3x Radiators, heated towel rail in bathroom |
| Calorifier (Hot Water Tank): | Twin coil & immersion |
| Bath/Shower Type: | Shower |
| Toilet Type: | Macerator (pump-out) |
| Toilet Tank Capacity: | Approx. 50 Gallons (225 litres) |
The Brigantine is a widebeam barge style vessel, elegantly designed to offer the very best of both residential and cruising options, whether that be on the UK or European Inland Waterways.

With steelwork developed and constructed by renowned stalwarts, Tyler-Wilson boatbuilders, Brigantine is a boat that dynamically delivers on all fronts.

Constructed to the highest specification to allow for exceptionally comfortable life afloat, Brigantine's hallmarks of its pedigree are obvious, detail and design; quality of steelwork construction; thoughtful attention to detail – both for ease of use and longevity of performance.

Bespoke level interior fit-out, 'domestic' system & engineering installations as well as exterior finishing, is by Nottingham Boat Co, one of the most experienced boat builders in the business. This is an organisation with a team of experienced technicians with over 50 years' experience in their craft.

Available to specify & purchase exclusively through The New & Used Boat Co., our vast experience with skilfully guide you through the entire process (offering experienced based advice as required) through hand-over. Rest assured, your total peace of mind is out constant goal

Some highlights of the Brigantine:

Qualifying Ship for residential VAT Purposes
Elegant and imposing design with great attention to detail
Large choice of internal finishes (& combinations) such as oak, ash, cherry, maple and walnut, as well as a wide choice of traditional & contemporary paint finishes
A mixture of Channelglaze barge style arch top opening windows and portholes
A large glazed dog-box style roof lantern as standard in the saloon, plus optional 'Houdini' Hatch in the master cabin
Beautiful spray painted marine specification gloss paints to the exterior, skilfully applied following full shot blasting and multiple applications of 2-pack Epoxy Primer
Three standard layouts available, in four production lengths, with a myriad of optional choices, plus further opportunities to access our completely bespoke design & build services
Perfect for river & canal continental cruising
Collapsible all-weather windscreen/aft-deck cover, or full folding wheelhouse available
Complete with a comprehensive cruising kit

Layout & Style:
The standard Brigantine layout is of the highly popular and practical reverse layout, with the galley at the stern followed by a large saloon area, guest suite/study (if requested), bathroom, with master cabin at the bow. We are happy to discuss and accommodate changes to the overall layout design or sizes of individual rooms.

The Brigantine is is currently available in three standard lengths 60, 65 & 70ft, although we do offer the flexibility of additional 1 foot length increments.

Lining & Materials:
Lower Sides: solid oak T&G boards along chine linings and oak veneered ply above the chine linings (apart from the master cabin, which is hand painted birch ply).
Upper Sides: either hand painted birch ply, or oak veneered ply, with 'chunky' solid oak traditional feature paneling (apart from master cabin which is solid oak T&G.
Ceiling/Deck-head: either hand painted birch ply, or oak veneered ply, with oak blockboard/solid oak trim.

All interior dividing bulkheads & walls are solid 'stud' type construction, with sound proofing and warmth retaining insulation.

Flooring:
Standard materials are ceramic tiling, or water resistant  laminate in the galley, main corridor (bow to stern) and bathroom. High quality wool blended carets (with underlays) in the saloon area and bedroom cabins.

Galley:
Designed to make the best use of space, as well as making a statement when entering the cabin. It features beautiful and luxurious hardwood work surfaces & tiled splashbacks. A mixer with in built water filter system and an under slung stainless steel sink with drainer grooves milled into the work surface. Appliances include a large stainless steel LPG oven and hob with stainless steel & glass extractor unit above and a concealed 12v fridge.

As standard one low level cupboard (with door) is fully prepared & plumbed for a standard washing machine / dryer, which we are happy to supply as an option, or fit as a 'free issue' item, should you wish to self procure.

Saloon:
A generously proportioned and comfortable saloon awaits you onboard your Brigantine. An airy space for entertaining, relaxing and dining or working. Featuring a 'dog-box' double glazed lantern overhead, this area is an area that will never fail to impress.

With enough space for a large 'L' shaped sofa forward of the galley, there are 2 focal points within the room; the stylishly presented Morso 'Squirrel' solid fuel stove on the centreline and the 32″  LED TV is an under gunwale unit to the starboard side. Also in the saloon area is a bespoke table and 4 chair set that when not in use stores below a stylish very 'ship-like' traditional bureau unit.

Guest Suite/Study (optional):
Whether you are expecting regular guests, need a second bedroom for other family members or a space to work from, you may wish to consider the option of another enclosed room. Available in 2 standard layouts either as guest suite or a study or a further options of a combined guest suite and study or a child's bedroom.

Bathroom:
The luxurious 'bathroom' is designed both for guests/visitors, and as an en-suite too! In one corner is a large 900mm quadrant shower with thermostatic mixer and spray head on a riser rail. A contemporary styled counter top basin, with pedestal tap, sits on top of a bespoke floor cabinet. The toilet is a top quality macerator, with 'domestic' styled china bowl, 2 stage eco-flush control and waste tank volume gauge.

Master Bedroom:
Located at the bows, a 'super king size' fixed double bed, underneath the bed is the fresh water tank and 2 large capacity drawers on double slide runners. To each side of the bed is a bed-side storage unit and low level storage shelves.

Also in this cabin is a floor to ceiling single full hanging wardrobe to one side of the en-suite door featuring a full length mirrored door and a matching floor to ceiling half hanging wardrobe and 'tall boy' style drawers underneath.

Other highlights of this room include the opening hatch doors to the bow (with glazed interior windows).

| Item | Description |
| --- | --- |
| Lengths: | 60ft, 65ft & 70ft |
| Width: | 12ft 6" |
| Stern Type: | Large Cruiser Stern |
| Engine: | Keel cooled, 4 cylinder 3.3 litre inboard diesel fuel 'Shire 70' |
| Gearbox: | PRM 260 Hydraulic Gearbox (2:1 reduction) |
| Engine Battery Alternator: | 50A |
| Leisure Battery Alternator: | 240A |
| Hospital Engine Silencer: | Yes |
| Diesel Tank Capacity: | Approx. 110 Gallons (500 litres) |
| Water Tank Construction: | Bespoke fully baffled food grade polypropylene |
| Water Tank Capacity: | Approx. 200 Gallons (900 litres) |
| Hull Protection: | Bitumen (2 Pack upgrade available) |
| Windows: | Mixture of arched top windows & port holes (size changes accommodated) |
| Decks: | All self draining |
| Weed Hatch: | Quick release |
| Gas Locker: | To hold 2 x 13kg bottles (1 provided) |
| Rubbing Strakes: | 2 full length (3 at bow & stern) |
| Handrails: | Roof mounted handrail |
| Bow Lockers: | Fitted as standard |
| Anodes: | 4 x 2.5kg magnesium anodes |
| Stern Doors: | Steel Lockable |
| Bow Hatch: | Hardwood, lockable with internal doors |

| Item | Description |
| --- | --- |
| Shoreline Connection: | Yes |
| Leisure Battery Bank: | 4 x 110A semi-traction batteries (optional AGM 600A battery upgrade) |
| Leisure Battery Bank Voltage: | 12v |
| Inverter Type: | Victron Pure Sine Wave - Combi Charger 120A |
| Inverter Capacity: | 3000W |
| Galvanic Isolator: | Yes |
| Engine Gauges: | Revs, temperature & oil warning lights |
| Quantity Electrical Sockets: | 6x 240v double sockets as standard (option for additional) |
| TV Signal Type: | Digital (Satellite upgrade available) |
| TV Points: | Qty. 1 (option for additional) |
| Appliances: | Full sized stainless steel hob, double oven, integrated fridge, stainless steel & glass extractor |

| Item | Description |
| --- | --- |
| Solid Fuel Stove: | Morso Solid Fuel Stove |
| Central Heating: | Diesel Fired Heating - 7Kw |
| Radiators: | 3x Radiators, heated towel rail in bathroom |
| Calorifier (Hot Water Tank): | Twin coil & immersion |
| Bath/Shower Type: | Shower |
| Toilet Type: | Macerator (pump-out) |
| Toilet Tank Capacity: | Approx. 50 Gallons (225 litres) |